#1 Resort Hotel in California
-Travel + Leisure, 2022
Legendary Hideaway
The Ranch has a historical guest list: Groucho Marx, Winston Churchill, Sinclair Lewis, and John Huston, who finished writing the screenplay for The African Queen while in residence. Laurence Olivier and Vivien Leigh exchanged midnight wedding vows on the grounds, and Camelot began here with John and Jackie Kennedy honeymooning in the cottage that now bears their name.
Ultimate Seclusion
Tucked away in the leafy foothills of Santa Barbara, San Ysidro Ranch offers a unique blend of privacy, peace, and tranquility in an idyllic setting. Thirty-eight vine-covered cottages surrounded by incredibly landscaped gardens with flowers always in bloom under a canopy of stately sycamores and gnarled oaks make this exclusive property destination unplugged from the rest of the world. Citrus groves, olive trees, brilliantly colored lantanas, lily pond, and the sweet smell of orange blossoms, fragrant magnolias, and jasmine make you think that you have just discovered a slice of paradise.
Romantic Cottages
Individually decorated cottages feature a gated entry with an enclosed garden and adjacent private parking. Interiors are sprinkled with antiques and original artwork recalling a relaxed European country-home feel. Furnishings include Persian rugs, stone fireplaces, king-sized four-poster beds, oversized sunken spas, and outdoor rainfall showers.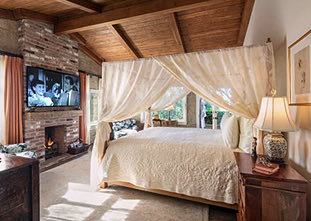 Culinary Excellence
The Ranch provides several premier dining settings featuring a palate of herbs and vegetables harvested from the onsite chef's garden. The Stonehouse, a Wine Spectator Grand Award-winning restaurant, is located in a 19th-century citrus packing house and has a romantic full-bar lounge and separate dining room with an outdoor terrace and a crackling fireplace. For a more casual destination, The Speakeasy at Plow and Angel offers more regional cuisine and a convivial ambiance as a local favorite. Housed in a storybook setting, the Carriage House features fireside dining with French doors opening to a private stone-paved courtyard, ideal for intimate gatherings and celebrations. The Wine Cellar features a masonry barrel-vaulted ceiling with a stunning glass doorway leading to a patio canopied by lantern-lit loquat trees, next to a crackling fireplace. If you prefer a more intimate setting, arrange for private dining in the original Old Adobe, a California historical landmark built on the property in 1825.
Fairytale Weddings
San Ysidro Ranch offers breathtaking vistas and intimate venues to begin your storybook Happily Ever After.
Learn More
130 Years of Grandeur: An Exclusive Package Awaits
Step into San Ysidro Ranch's storied past with our limited-time San Ysidro 130th Anniversary Package. Settle into the elegant Gardenia cottage, dine by candlelight in the ancient Old Adobe, elevate your senses with guided champagne and caviar tastings, and enjoy much more.